Established in 1992, STARMATRIX GROUP INC. is an exporting-oriented group company which combined with production, trading and services. We started as governmental regional branch of China National Minmetals and Machinery Corporation since 1952. We are headquartered in Zhenjiang, about 200 kilometers north of Shanghai, which is the most economically active part in China. In East China we fully owned 4 factories. 
Following is Starmatrix history:
1992, Starmatrix founded
1999, Starmatrix AB Packaging
2008, Starmatrix Industries established Starmatrix Europe (Brussels)
2009, Starmatrix Australia (Melbourne)
2010, Starmatrix Hero & Starmatrix Banxing
2014, Starmatrix Industries moved to new plant (Danyang) Starmatrix South America (Natal)
2016, Starmatrix USA (Phoenix)
2019, Starmatrix Industries start the second phase construction, Starmatrix Group purchase Hyclor Australia Pty LTD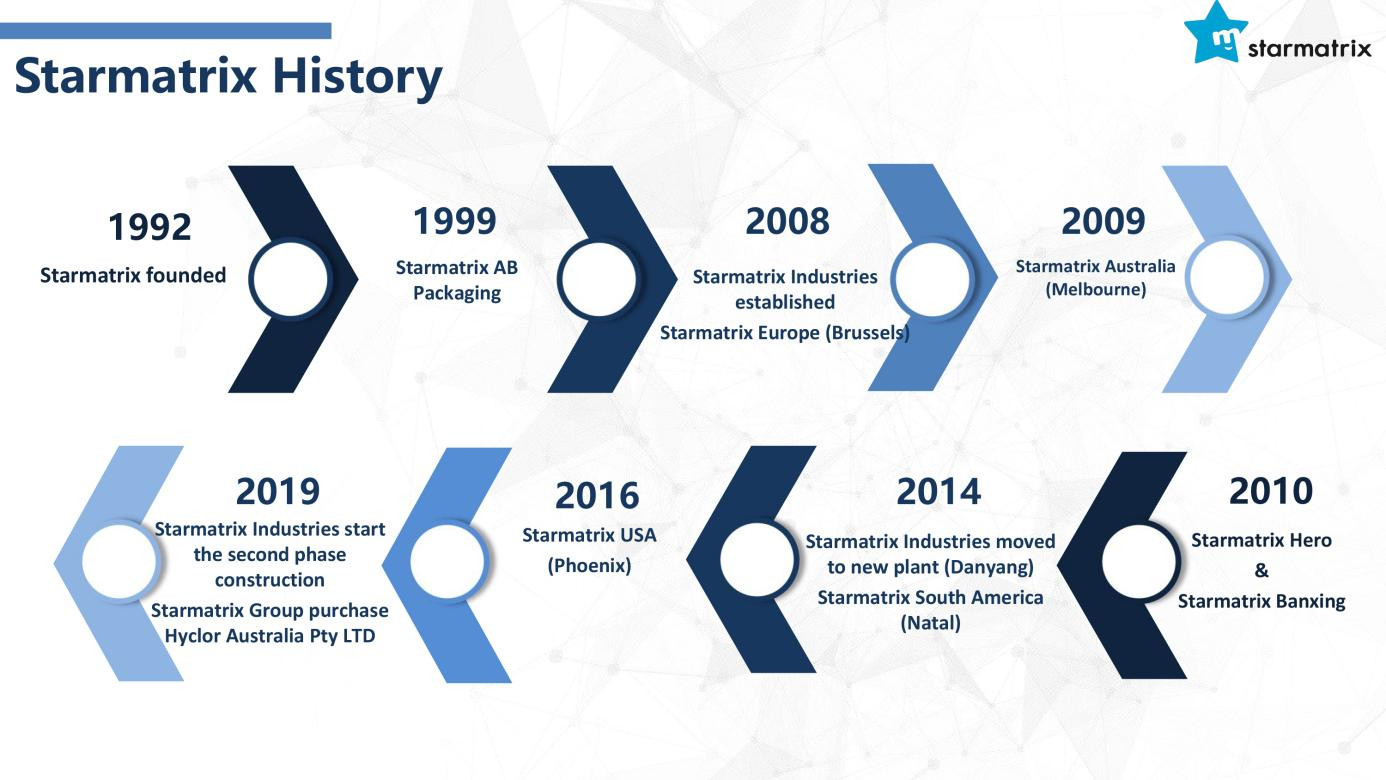 STARMATRIX offers a wide range of products which includes: different sizes aboveground pools, pool filter and filter ball(Aqualoon), pool pump, solar heater, solar shower, a complete range of accessories for their equipment and maintenance. Nowadays our products have been sold to more than 30 countries in Europe, America, Australia and Asia by supplying whole range products with superior quality and convincing prices. With the existing products, we can also produce upon the samples and drawings provided by customers and adopt multi ways (such as OEM) to cooperate with the customers.
With more than 83000 square meters land 80000 square meters workshop, we can cater to the capacity of our global customers. Our team consists of over 300 qualified engineers and experienced, skilled employees with many years of industry experience. You can count on our team of experts with over 30 years in pool business to help you with all your pool supply and accessories needs.
Dedication and professionalism for decades made us popular in the sector. Our most important goal remains also in the future to optimally fulfill your requirements for professional advice, product quality, delivery time and delivery reliability.
---
Post time: Apr-27-2022